Berlin (Warnemunde), Germany
Passengers are usually taken by train from the port city of Warnemunde to Berlin. In Berlin, step back into the city's turbulent past at the Brandenburg Gate, once closed between East and West Berlin, then reopened in 1989 when the Berlin Wall came down. View the famous sculpture of Queen Nefertiti at the Egyptian Museum, or wander among the shops and cafes of the Kurfurstendamm and Unter den Linden, two of the city's historic boulevards. Tourists staying at port can stroll past the fishermen's cottages on the old Alter Strom harbor.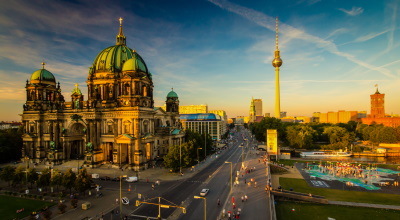 Language: German
Currency: Euro (EUR)
Driving Directions and Parking Information
Cruise Terminal P-8
Am Passagierkai
D-18119 Warnemunde
Germany
Hamburg to Warnemunde driving directions: Drive 70 miles via highway A20 until exit number 14. Follow the state road B103 for 12 miles until you arrive in Warnemunde. Berlin to Warnemunde driving directions: Drive 110 miles via highway A19 and take exit B105 to Warnemunde. Drive another 3 miles until exit B103/Rostock-Nord and you'll arrive in Warnemunde.
Berlin (Warnemunde), Germany Weather
Jan
Feb
Mar
Apr
May
Jun
Jul
Aug
Sep
Oct
Nov
Dec
High
35
39
47
54
65
70
73
73
66
56
45
38
Low
26
27
33
37
45
53
56
55
50
42
35
30
Jan
Feb
Mar
Apr
May
Jun
Jul
Aug
Sep
Oct
Nov
Dec
High
2
4
8
12
18
21
23
23
19
13
7
3
Low
-3
-3
1
3
7
12
13
13
10
6
2
-1
Jan
Feb
Mar
Apr
May
Jun
Jul
Aug
Sep
Oct
Nov
Dec
Days
23
18
20
16
15
19
18
17
17
17
22
23
Jan
Feb
Mar
Apr
May
Jun
Jul
Aug
Sep
Oct
Nov
Dec
Percent
89
90
88
84
78
79
80
84
89
90
89
89